13 Apr 2022
Hub Gymnastics secures $4m to upgrade its facilities and SA Senator Andrew McLachlan says its not a federal election pledge │ The Advertiser
By EMILY JARVIS
A southern suburbs sporting club is doing somersaults over the competition, attracting families from all over the city to be a part of its program.
The Hub Gymnastics Club in Happy Valley has been helping aspiring gymnasts achieve their goals since 1985.
Now the club has some cash to splash after receiving a million-dollar boost from the federal government.
The cash injection is not dependant on the outcome of the federal election in May, despite South Australian Senator Andrew McLachlan making the announcement on Tuesday - day three of the election campaign.
"It's such a great and inclusive sport to teach children key movement patterns and develop perseverance and determination," head coach Emma Murray said.
"I am so proud of our club and how we have grown from strength to strength all while maintaining our vision of keeping gymnastics affordable and inclusive and assisting in creating good humans."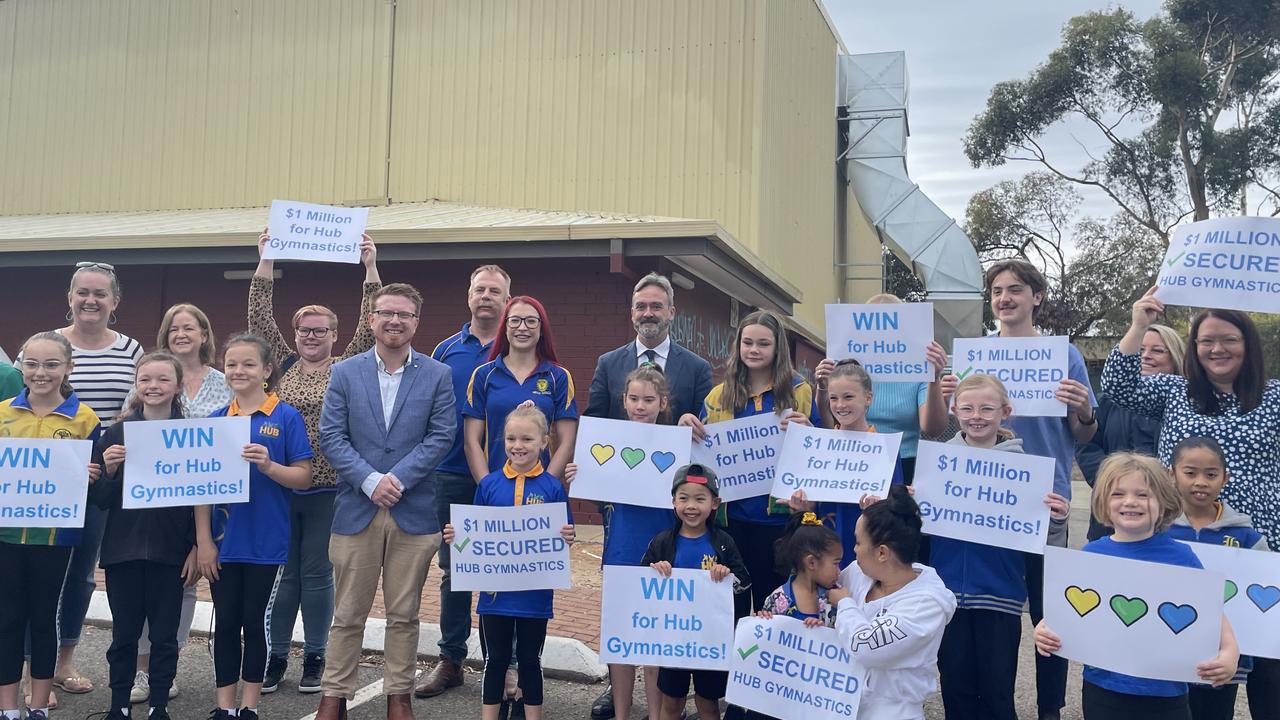 Members of the Hub Gymnastics celebrate the $1m funding boost from the federal government with Simon McMahon, Emma Murray and Senator Andrew McLachlan CSC. Picture: Emily Jarvis

The club caters for about 700 members across all age groups and genders and employs 50 staff.
However, due to capacity restrictions and limited facilities, there is a waitlist of 300 children.
"This money will go towards having a bigger and more user-friendly space," Ms Murray said.
"It will become more fit for purpose in terms of change rooms, new raised seating for events and upgrading things like the car park and toilets."
The state government has also committed an additional $3 million to the project.
Carly Fitzgerald and her daughter Ruby have been a part of the club for four years and said the community fitted in perfectly with their lives.
"We were at a different gymnastics because this one was just a little far to travel to, but once they moved back up the hill we got on board and now spend 90 per cent of our time here," she said.
In 2013, the centre relocated to Cosgrove Hall at Clovelly Park.
After several years in discussion with the City of Onkaparinga, the club moved to The Hill Recreation Centre.
In 2021, the facility was renamed after Ms Murray's late father Paul and was officially recognised as The Paul Murray Recreation Centre.

"This is one of the best sporting clubs in the state, this deserves support and they need to expand," Senator McLachlan said.

"During my many visits to the club, I have been extremely impressed by the dedication and talent of the athletes and believe that Australia's next gymnastics gold medallist could come from Hub Gymnastics."
View source